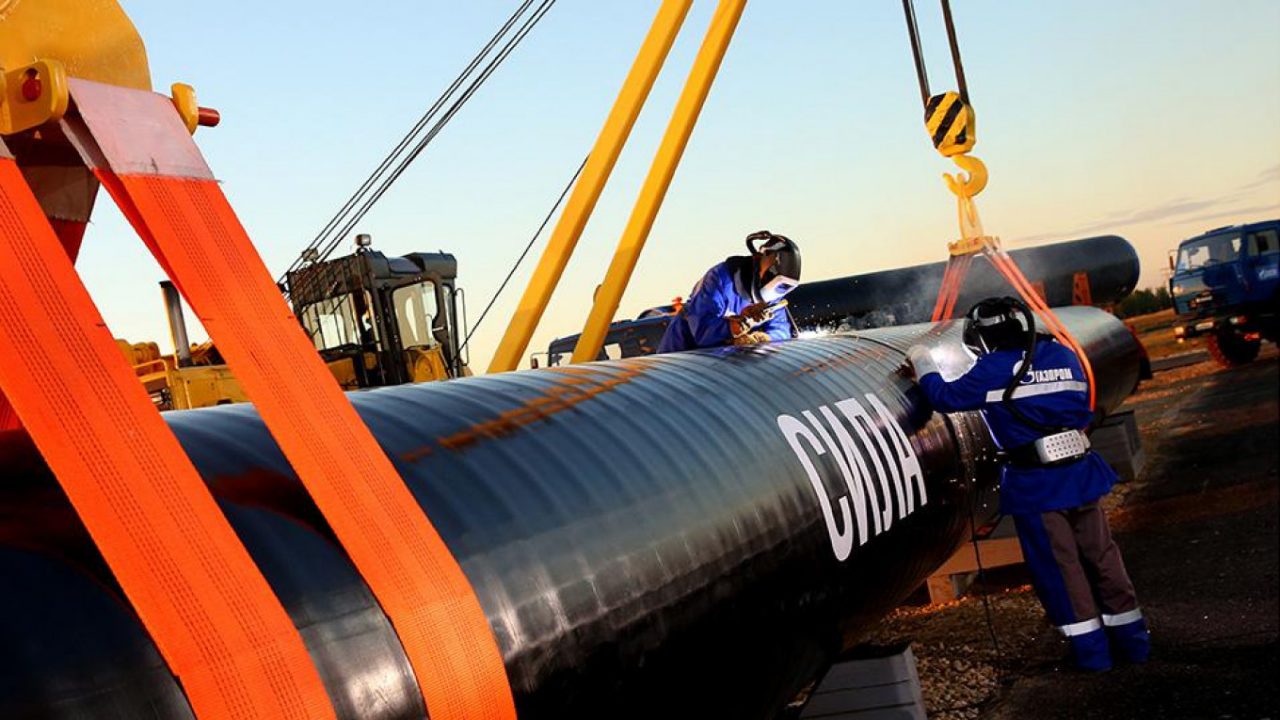 API 5L Grb lined pipe cover seamless or welded carbon steel line pipe which suitable for use in conveying gas and oil industry. Our factory can offer high quality API5L Grb line pipe to all of worlds with API certificate.API 5L grb ERW steel pipe is very common steel grade,usuallyy for psl1 grb pipe.
We can manufacture our line pipe according to the following standards:
1. ASTM A53, Grades A and B materials
2. ASTM A106, Grades A, B and C materials
3. API 5L, Grades X42, X46, X52, X56, X60, X65, X70, X75 and X80 materials
4. DIN1626, ST42, ST37 and ST52 materials
Application
Line pipes are used for transporting petroleum, natural gas, industrial gases, oil, water and many other liquids. It can be applied to submarine, high and low temperature transportation, corrosive content transportation, etc.
Technical Specification
We can manufacture our line pipe with an outer diameter from 21.3mm to 914.4mm and with a wall thickness from 2.11mm to 59.54mm.
Materials
The line pipe can be made with different materials, including 20#, 45#, 16Mn (Q345A, B, C, D and E), 27SiMn, 20Cr, 40Cr, J55, N80, P110
Equipment Maintenance
Maintenance of the following items is included in the warranty range: brush paint, groove, pipe cap, galvanization, anticorrosion property, etc.
Packaging
The line pipe can be painted with different colors according to customers' requirements. Plastic caps are provided to protect the two sharp ends. Our line pipes are supplied in 20 feet or 40 feet containers.
Service
We can ship our line pipes to customers directly.
Truaus is a China based line pipe manufacturer and supplier. Our main products include boiler steel tube, corrosion protection steel pipe, insulated pipeline, to name a few. All of our high quality products are offered at competitive prices. The full chain of manufacturing abrasion resistant steel pipe, SSAW steel pipe, etc. can be completed in China, even in one city. Lower manufacturing cost saves your purchasing cost. The detailed information of each product is shown in the corresponding product page.
API 5L PSL1 Pipeline
Standard: API 5L PSL 1, ISO 3183 PSL 1
Steel Grade: A, B, X42, X46, X52, X56, X60, X65, X70
API 5L PSL1 A ,API 5L PSL1  B ,API 5L PSL1 X42 ,API 5L PSL1 X46,API 5L PSL1 X52 ,API 5L PSL1 X56 ,API 5L PSL1 X60 line pipe.
Dimension:
1)seamless
OD: 21.3-762mm WT: 2-100mm L: 5.8m, 6m, 11.8m, 12m
2)HFW/ERW
OD: 21.3-508mm WT: 3.2-15.9mm L: 5.8m, 6m, 11.8m, 12m
3)LSAW
OD: 406.4-1422mm WT: 6.4-44.5mm L: 5.8m, 6m, 11.8m, 12m
4)SSAW
OD: 219.1-2540mm WT: 5.4-25.4mm L: 5.8m, 6m, 11.8m, 12m
Ends deisgn:
1) Bevel the welding ends to an angle of 30°, +5°, -0°, with a root face of 1/16″, +/- 1/32″. The bevel shall form a V groove with an included angle of 60°+10/-0. The root opening shall be 1/16″, +/- 1/32″ according to ANSI B16.25.

2) Plain or straight ends.
3) Threaded ends with coupling or without coupling according to API Spec. 5B.
API 5L psl2 Line Pipe(Seamless or Welded)
Standard: API 5L PSL 2, ISO 3183 PSL 2
Steel Grade:
1) For seamless and welded pipes
BR, BN,BQ, X42N, X42Q, X46N, X46Q, X52N, X52Q, X56N, X56Q, X60N, X60Q, X65Q, X70Q, X80Q, X90Q, X100Q
2) For welded pipes
BM, X42M, X46M, X52M, X56M, X60M, X65M, X70M, X80M, X90M, X100M, X120M
OD: NPS 1/2″ – 30″ (21.3-762mm)
WT: SCH 10-XXS (2-100mm)
Length: 5.8m, 6m, 11.8m, 12m or according to customers' requirements.
Manufacturing Process: Hot Rolled, ERW, HFW, SSAW, LSAW, JOCE, UOE, RBE
Package: Beveled or straight ends with plastic caps or metal protectors, black painted, hexagonal bundled or loose packing.
Usage: Water Pipeline, Petroleum Pipeline, Gasoline Pipeline, Oil Termainal Pipeline, Oil Jetty Pipeline.
Chemical Composition Table for API 5L PSL2 Line Pipe: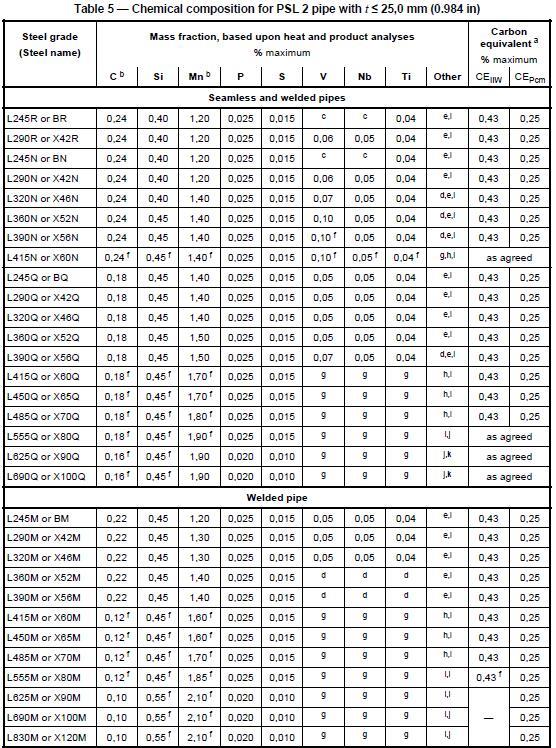 Mechanical Property Table for API 5L PSL2 Line Pipe: