The steel pipe tee is the most common piece used when there is a branch on the main pipeline. When the size of the branch is the same as the header pipe the equal tee is used. When the branch size is less than the header size unequal tee is used then. Currently, hydroforming and hot press forming are used to manufacture steel tee made of seamless pipe. The steel pipe tee is used to connect pipelines in networks to transport two-phase fluid mixtures. It can be stored in fumigation-free boxes or wooden holders.
Our company provides steel pipe tee of different sizes such as 1/2″ and 24″, DN15 and DN600 seamless fittings, 4″ and 24″, DN100 and DN600 weld fittings or 12″ and 78″, DN300 and DN1900 butt welding fittings. There is also different wall thickness. The maximum wall thickness of the steel pipe tee is 150 mm and other schedule numbers are sch10, sch20, sch30, std, sch40, sch60, xs, sch80, sch100, sch120, sch140, sch160, xxs, sch5s, sch20s, sch40s and sch80s.
Specifications of the Steel Pipe Tee
Type
Seamless Tee
Weld Tee
Butt Welding Tee
Out Diameter
1/2″ ~ 24″
4″ ~ 24″
12″ ~ 78″
Wall thickness
3 mm ~ 200 mm
Product type
Equal tee and unequal tee
Pipe Tee Sytle:
Pipe tee is used for distributing or collecting the fluid from the run pipe. It is a short piece of pipe with a 90-degree branch at center. There are two types of Tee used in piping, Equal / Straight Tee and Reducing / Unequal Tee.
Straight Tee
In straight tee, the diameter of the branch is same as the diameter of the Run (Header) Pipe.
Reducing Tee
In reducing tee, diameter of the branch size is smaller than the diameter of the Run (Header) Pipe
Barred Tee
A barred tee which is also known as a scrapper tee is used in pipelines that are pigged. The branch of the tee has a restriction bar welded internally to prevent the pig or scrapper to enter the branch. The bars are welded in the branch in a way that it will allow restriction free passage of the pig from the run pipe.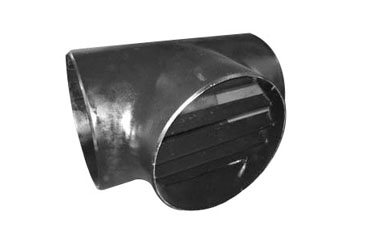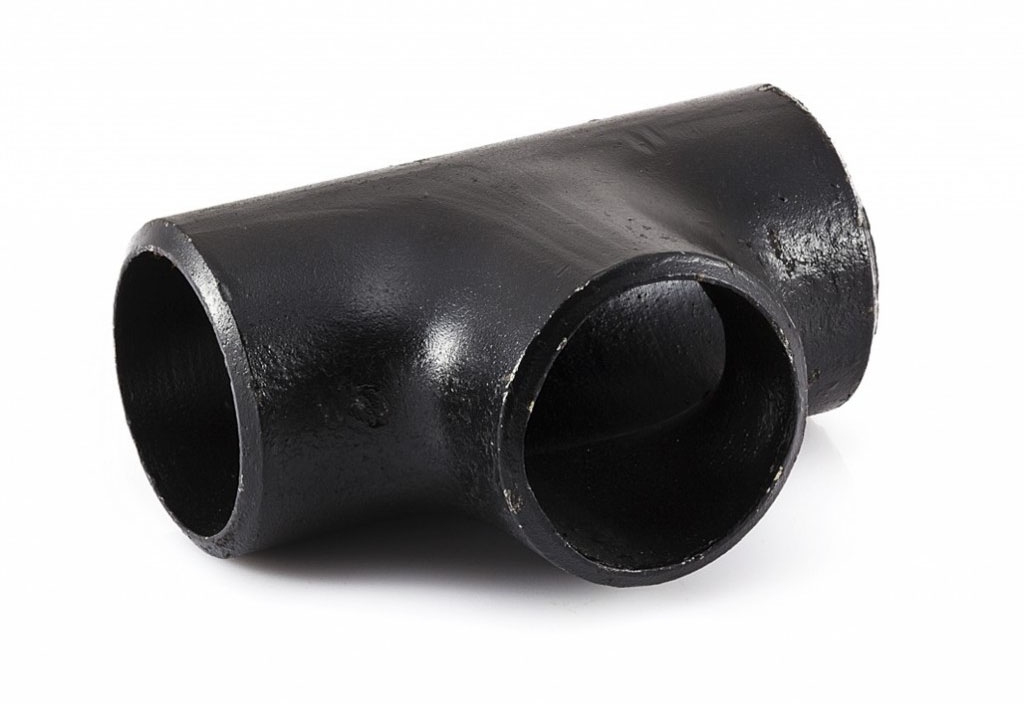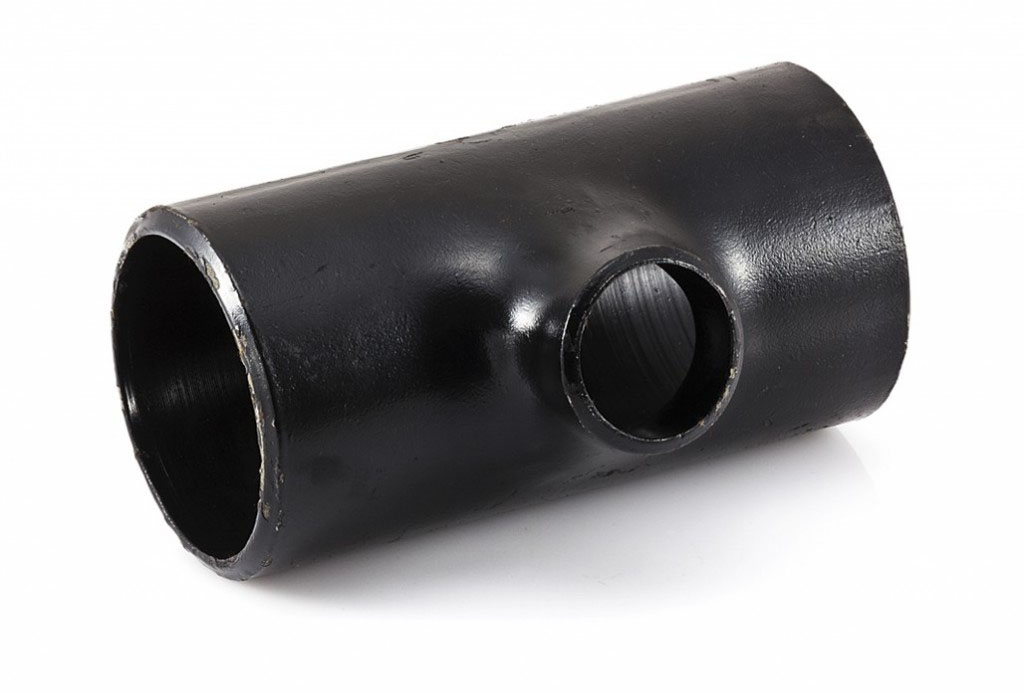 butt welded barred pipe tee        butt welded equal pipe tee        butt welded reducing pipe tee
Pipe Tee Materials
In addition, our pipe tee can be made of different materials and detailed information is listed here.
Carbon Steel: ASTM/ASME A234 WPB、WPC
Alloy Steel: ASTM/ASME A234 WP 1-WP 12-WP 11-WP 22-WP 5-WP 91-WP 911
Stainless Steel: ASTM/ASME A403 WP 304-304L-304H-304LN-304N, ASTM/ASME A403 WP 316-316L-316H-316LN-316N-316Ti, ASTM/ASME A403 WP 321-321H ASTM/ASME A403 WP 347-347H
Low Temperature Steel: ASTM/ASME A402 WPL 3-WPL 6
High Performance Steel: ASTM/ASME A860 WPHY 42-46-52-60-65-70
TEES straight and reducing
The primary purpose of a Tee is to make a 90° branch from the main run of pipe. Standard there are 2 possibilities, on behalf of the equal tee and reducing tee. The equal tee (or straight tee) is used as the branch has the same diameter as the run-pipe. The reducing tee is used as the branch has a smaller diameter as the run-pipe.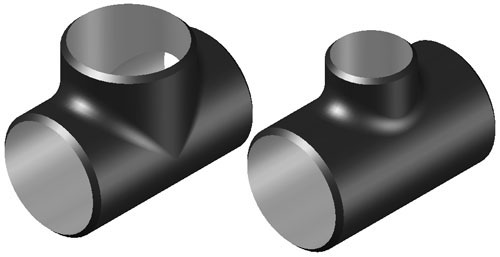 Dimensions and Standards
When we talk about a tee NPS 3, a equal or straight tee is intended. With a tee NPS 3 x 2 a reducing tee is intended. Although, officially a reducing tee will be indicated by 3 diameters, namely 3 x 3 x 2 (A x B x C). The A and B measure stands for the Nominal Pipe Size of Run-Pipe, C measure stands for Nominal Pipe Size of Outlet.
This designation actually is superfluous, but comes from the time that tees were available in 3 different ends of diameters, such as
4 x 3 x 2 (A x B x C). In this implementation of course it is necessary, to specify 3 different sizes.
That kind of tees is probably no longer available. Applying a equal tee with a concentric or eccentric reducer is now the usual practice.
A straight or equal buttwelding Tee is available for all common diameters.
A Reducing Tee not, because many diameters are not produced, or can not be produced.
As an example: a reducing tee NPS 6 x 4 is a standard item for most suppliers, but a reducing tee NPS 16 x 2 is probably not available by any supplier.
It would also not economical to use a NPS 16 tee with a NPS 2 outlet; in such situations a Branch Fitting will be used or a Branch Connection will be made.
In addition to the defined tees, there are straight and reducing crosses.
Straight crosses are generally stock items, reducing crosses are often difficult to obtain.
I have never used that tees and I have they never seen in practice, at least not in petro and chemical industry. They will be used where space is limited, by revision work, in shipping industry et cetera.
Wall thickness Tee
By the shape of a tee, the wall thickness can be a critical item. ASME B16.9 only standardizes the end-to-end dimensions, center-to-end dimensions and some "squareness" dimensional tolerances.
The wall thickness at the weld line location even is standardized, but not through the rest of the fitting. The standard states that the minimum tolerance will be within 12.5% of the minimum ordered wall thickness of the pipe. A maximum tolerance is specified only at the ends of the fitting.
Many providers of welding tees (and elbows) provide one schedule greater thickness so that sufficient wall thickness, after forming, remains. In Tee's, the crotch radius (T) varies from one manufacturer to another, but some establish itself as a requirement, 1.3 times the wall thickness to maintain the crotch.
DIMENSIONAL TOLERANCES STRAIGHT TEES ASME B16.9
Nominal Pipe Size
1/2 to 2.1/2
3 to 3.1/2
4
5 to 8
10 to 18
20 to 24
26 to 30
32 to 48
Outside Dia
at Bevel (

D

)
+1.6
-0.8
1.6
1.6
+2.4
-1.6
+4
-3.2
+6.4
-4.8
+6.4
-4.8
+6.4
-4.8
Inside Dia at End
0.8
1.6
1.6
1.6
3.2
4.8
+6.4
-4.8
+6.4
-4.8
Center to End (

C / M

)
2
2
2
2
2
2
3
5
Wall Thk (

t

)
Not less than 87.5% of Nominal Wall Thickness
Dimensional tolerances are in millimeters unless otherwise indicated and are equal ± except as noted.