Buttweld Pipe Cap, SS Butt weld Cap, ANSI B16.9 Pipe Caps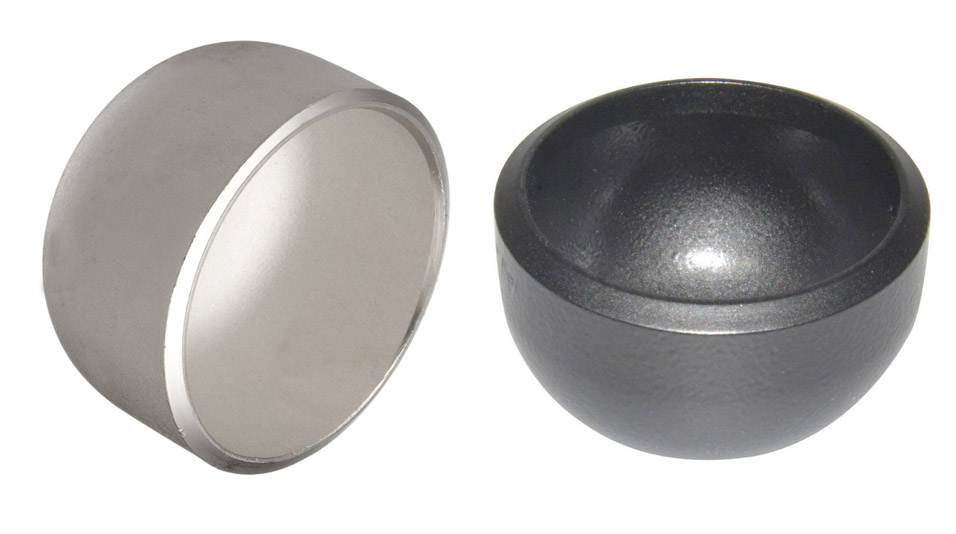 Butt weld fittings get their name from the method for which they attached to a piping system. Each end of a butt weld Caps fitting is beveled, and it is attached by butting the fitting up to the adjoining pipe and welding along the bevel. This connection is both stronger and smoother than threaded or socket weld connections, making butt weld fittings the preferred product for critical applications.
Caps are butt weld fittings used to terminate the flow, welding to the end of a butt weld fitting or pipe.
The steel pipe cap is welded at the end of pipes or installed on the external thread and is used to block the pipe. There are many kinds of convex pipe caps such as hemispherical pipe cap, oval pipe cap, disc-shaped pipe cap and spherical cap. Bending, extruding, pushing, molding and machining manufacturing methods are used to produce it.
Steel pipe cap acts as a protective piece and is designed to protect ends of different shapes. Its main purpose is to make pipe connections waterproof. The steel pipe cap is widely used in the plumbing lines of domestic, commercial and industrial water supply, machinery and processing equipment. Besides, pipe cap is fitted on water pump lines with the sole purpose of removing air blocks.
Our company can provide steel pipe cap with maximum wall thickness up to 150 mm and there are also other schedule numbers available such as sch10, sch20, sch30, std, sch40, sch60, xs, sch80, sch100, sch120, sch140, sch160, xxs, sch5s, sch20s, sch40s and sch80s.
STANDARDS: ANSI B16.9 ASTM A234 WPB, JIS,DIN. ETC.
SIZE:1/2″—48″
THICKNESS:STD,SCH40,SCH20,SCH60,SCH80,SCH100,SCH120,SCH160,XS,XXS,SGP, ETC. 
Specifications of the Steel Pipe Cap
| | |
| --- | --- |
| | Type |
| Out Diameter | 1/2″ ~ 78″ |
| Wall Thickness | 3 mm ~ 200 mm |
Standard Available
carbon steel butt welded seamless Caps is usually used for protecting the end of pipe and other fittings,so the shape is disigned according to the shape of pipe line.we also use caps to cut off the transition and the connection treat can be butt weld,socket weld and thread conection according to use requirements.

Nominal pipe
size
DN


Outside Diameter at Bevel


Length


Limiting Wall
Thickness for
length E


Series A


Series B

15

21.3

18

25

–

–

20

26.9

25

25

–

–

25

33.7

32

38

–

–

32

42.4

38

38

–

–

40

48.3

45

38

–

–

50

60.3

57

38

44

5.5

65

76.1(73)

76

38

51

7.0

80

88.9

89

51

64

7.6

90

101.6

–

64

76

8.1

100

114.3

108

64

76

8.6

125

139.7

133

76

89

9.5

150

168.3

159

89

102

11.0

200

219.1

219

102

127

12.7

250

273.0

273

127

152

12.7

300

323.9

325

152

178

12.7

350

355.6

377

165

191

12.7

400

406.4

426

178

203

12.7

450

457.2

478

203

229

12.7

500

508.0

529

229

254

12.7

550

559

–

254

600

610

630

267

650

660

–

267

700

711

720

267

750

762

–

267

800

813

820

267

850

864

–

267

900

914

920

267

950

965

–

305

1000

1016

1020

305

1050

1067

–

305

1100

1118

1120

343

1150

1168

–

343

1200

1220

1220

343
Introduction to Hot Forming – Manufacturing of Butt Welded CAPS
The manufacturing process of caps starts from steel plates that are cut and shaped with a cold forming procedure: