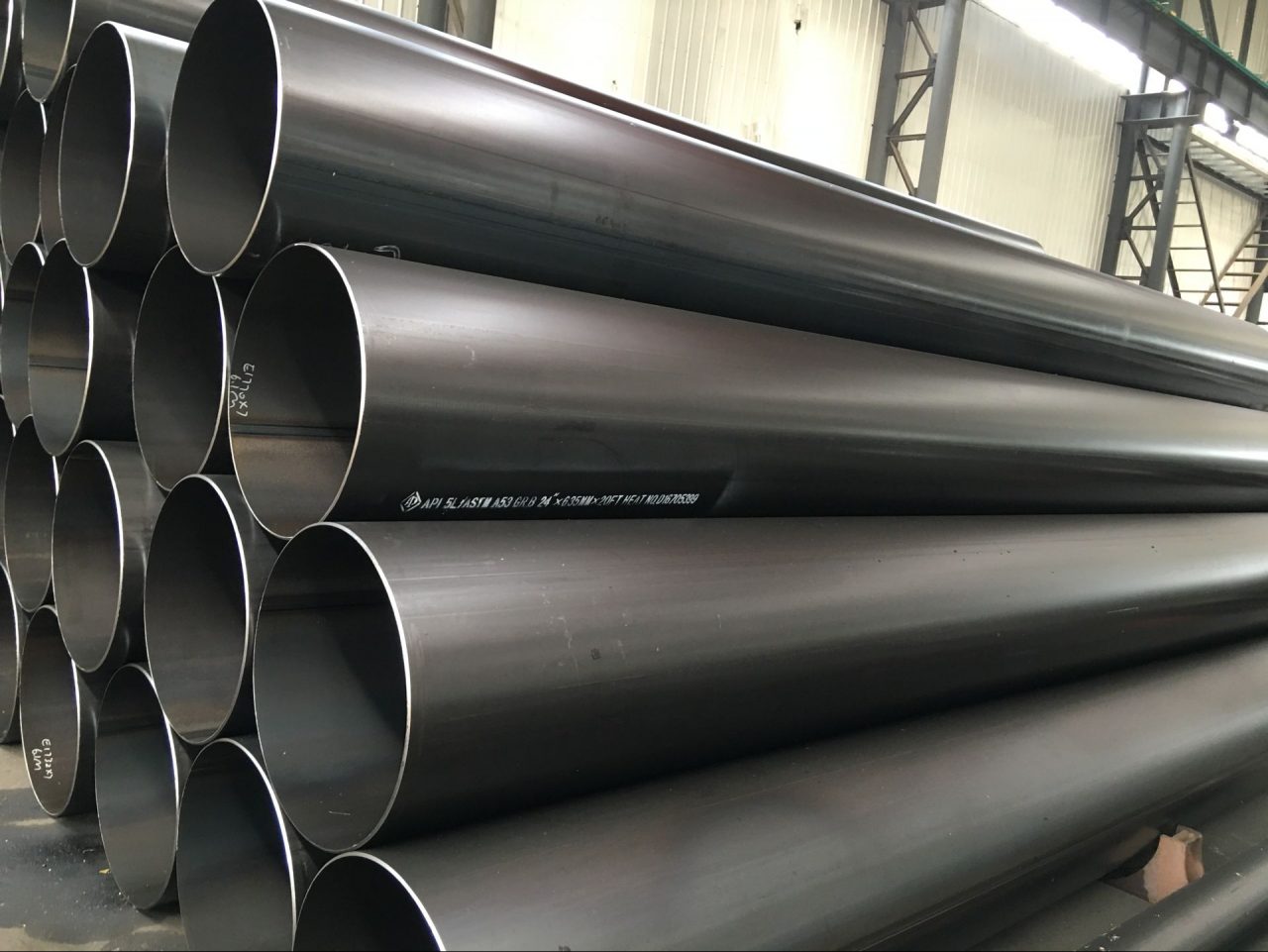 The ERW (Electrical Resistance Welded) steel pipe is also known as straight seam pipe, it is manufactured by using electric resistance welding. The weld lies inside the tube and is therefore non-visible from the outside. The wall thickness of our ERW steel pipe can be customized according to your specific requirement with a thickness deviation no more than 0.2mm. In addition, this pipe can be manufactured in compliance with different standards upon request, including ASTM, API5L, A53 BS1387-85, GB/T3092-2001, etc.
Application
ERW steel pipe is broadly applied in pipeline construction, pipe piling, fabrication, fence, bollards, sign poles, water well drilling, and more.
Carbon Steel ERW Pipe
Outer Diameter Size: 3″-24″
Wall Thickness: 4mm-12.7mm
Specification & Grades: 20#, 16Mn, A53(A,B), J55, Q235, Q195 X42 Grade B
Standard: API 5L, A53, A-519
Stainless ERW Pipe
Outer Diameter Size: 14mm-2200mm
Wall Thickness: 0.5mm-30mm
Standard: ASTM (ASME) SA/A312/M ASTM A358
Material: TP304, TP304L, TP310/S, TP316L, TP316/316L Dual Grade, TP317L, TP321, TP347
Special Treatment
Galvanization, black painting, anti-corrosion, cement lining
Packaging
The ERW steel pipe can be tied into a bundle or packed with wooden cases. Plastic caps are provided to protect the two sharp ends.
Service
Please contact us for any queries and we will try our best to help you through.
Taurus is a China based ERW steel pipe manufacturer and supplier. Our main products include boiler steel tube, 3PE anticorrosion steel pipes, fiberglass insulated pipeline, to name a few. All of our high quality products are offered at competitive prices. The full chain of manufacturing foam insulated pipeline, SSAW steel pipe, etc. can be completed in China, even in one city. Lower manufacturing cost saves your purchasing cost. The detailed information of each product is shown in the corresponding product page.
ERW welded pipe manufacturing process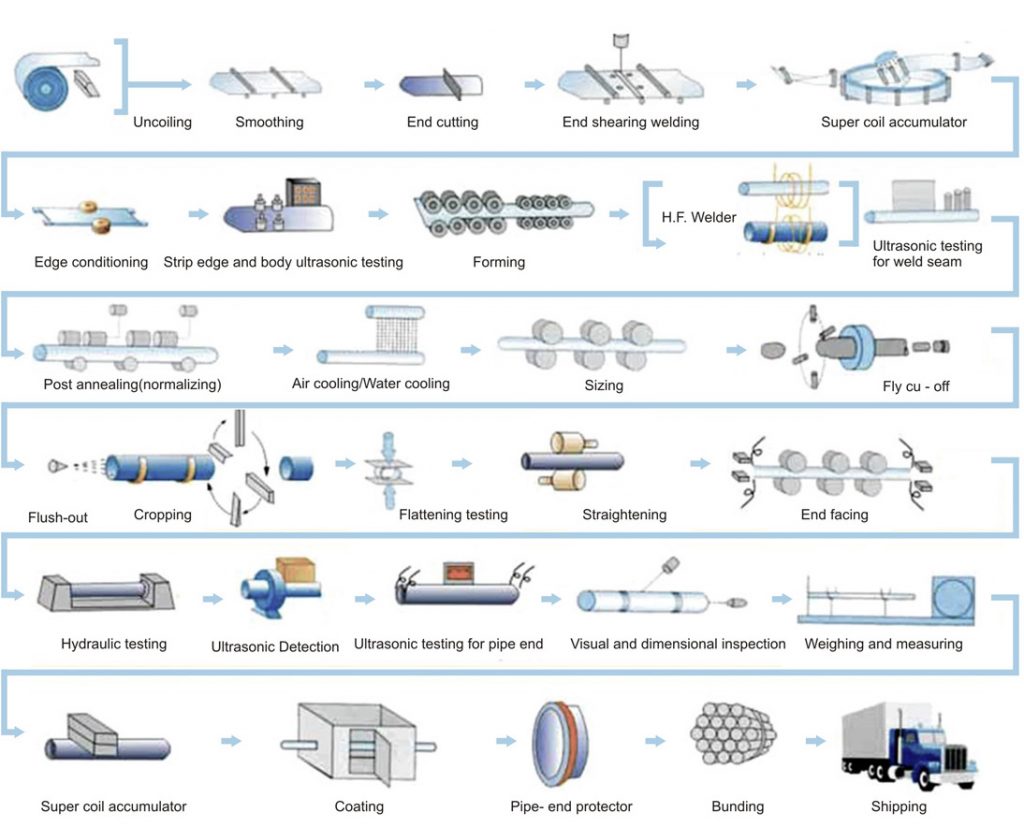 ERW/HFW Longitudinally Welding Steel Line Pipe (Electric Resistance Welding ) Manufacturing Flow Chart
Uncoiling – Flattening – Shearing and Butt Welding – Loop Storing – Plate UT – Trimming – Forming – High Frequency Welding – Removal of Inside and Outside Blurs – Ultrasonic Testing – Annealed by Medium Frequency – Air Cooling – Water Cooling – Sizing – Straightness – Cutting Off – Dimension and Initial Surface Inspection – Pipe Ends Beveling – Hydrostatic Test – Ultrasonic Testing of Entire Tube – Off Line Ultrasonic Testing – Ultrasonic Testing for Pipe Ends – Dimension and Final Surface Inspection – Corrosion Resistant Coating – Marking – Pipe Ends Protection – Inspection and Warehousing
Specification of ERW steel pipe:
The chemical composition of the steel material can be altered according to a number of standards such as API 5L, etc. to meet customers' specific requirement.
API 5L/ASTM A53 GR.B (Small Diameter ERW Steel Pipe)
Outside Diameter
Wall Thickness
Outside Diameter
Wall Thickness

 (mm)

 (mm)

  (mm)

 (mm)

33.4
(1″)
2.1-2.4
Φ133
3.0-5.75
2.5-3.25
6.0-7.75
3.5-4.0
8.0-10
42.3
(1.2″)
2.1-2.4
Φ139.7
(5″)
3.0-4.5
2.5-3.5
4.75-5.75
3.75
6.0-7.75
4.0-5.0
8.0-10
48.3
(1.5″)
2.1-2.4
Φ152
3.0-4.5
2.5-3.25
4.75-5.75
3.5-3.75
6.0-7.75
4.0-4.25
8.0-10.0
4.5-6.0
Φ159
3.25-6.75
Φ60.3
(2″)
3.0-4.0
6.8-7.75
4.25-4.75
8.0-10.0
5.0-5.75
10.0-11.75
Ф73
3.0-4.75
Φ165
3.0-6.0
4.8-5.25
6.25-7.0
5.5-7.0
/
Φ76.1
(2.5″)
3.0-4.0
/
4.25-4.75
Φ168.3
3.5-5.75
5.0-5.25
6.0-8
5.5-7.0
8.25-8.75
Φ88.9
(3″)
3.0-4.0
9.0-9.75
4.25-4.75
10.0-11.75
5.0-5.25
/
5.5-6.0
Φ177.8
(Φ180)
3.75-5.75
8
6.0-7.75
Φ108
3.0-4.5
8.0-8.75
4.75-5.75
9.0-9.75
6.0-6.25
10.0-11.75
6.5-9.0
/
Φ114.3
(4")
3.0-4.0
Φ193.7
4.0-6.75
4.25-4.75
6.8-7.75
5.0-6.0
8.0-9.75
6.25-7.75
10.0-11.75
8.0-10
/
Φ127
3.0-4.75
Φ203
3.0-6.75
5.0-5.75
6.8-8.0
/
8.25-11.75
/
/

API 5L GR.B/ASTM A53 GR.B (HOT EXPANDED ERW STEEL PIPE)
Outside Diameter
Wall Thickness
Outside Diameter
Wall Thickness

(mm)

 (mm)

 

(mm)

(mm)

245, 273
5.0-9.28
450, 457, 508, 530
6.5-11.98
9.45-9.98
12.0-14.5
10.0-11.78
15.0-17.8
299
5.0-9.28
18.0-20.0
9.45-9.98
560, 610, 630
6.5-11.98
10.0-11.78
12.0-14.5
325
5.5-9.28
15.0-17.8
9.48-10.48
18.0-20.0
10.58-11.78
660
7.5-11.98
351, 355, 377
5.5-11.98
12.0-14.5
12.0-15
15
15.5-16
720, 820
8.5
402, 406, 426
5.5-11.98
12.0-14.5
12.0-14.5
15.0-19.98
15.5-16
18.0-20.0

API 5L/ASTM A53 GR.B (Hot Rolled ERW Steel Pipe)
Outside Diameter
Wall Thickness
Outside Diameter
Wall Thickness

 (mm)

 (mm)

(mm)

 (mm)

219

、

245

5.0-11.75
462
5.75-11.75
273
5.0-11.75
12.5-13.75
12.5-13.75
457

、

478

5.75-11.75
299
5.5-11.75
12.5-13.75
12.5-13.75
14.5-17.75
325
5.5-11.75
508
5.75-11.75
12.5-13.75
12.5-13.75
355
5.5-11.75
14.5-17.75
12.5-13.75
529/559/610/630
5.75-11.75
377
5.75-11.75
12.5-13.75
12.5-13.75
14.5-17.75
406
5.75-11.75
660
7.5-11.75
12.5-13.75
12.5-13.75
/
14.5-17.75