Steel Pipe Elbow Fittings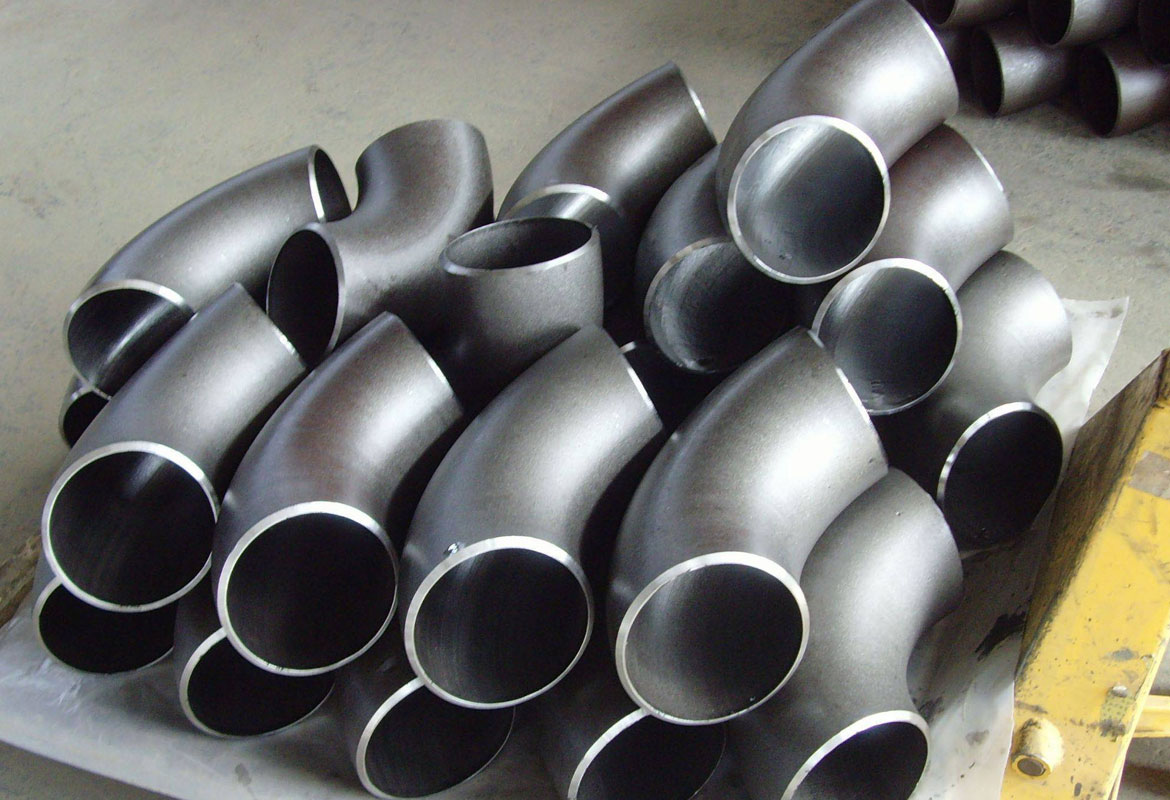 The steel elbow, a kind of pipe fitting, is a commonly used piece installed between two pipes of the same or different nominal bore to allow a change of direction. It usually has 45º, 90º, 180º angle, though 60º and other angle elbows are also available. According to its radius of curvature, the steel elbow is categorized into long radius pipe elbow and short radius elbows. The radius of curvature of long radius elbow is 1.5 times of pipe outside diameter, and that of short radius pipe elbows is 1.0 time of the pipe outside diameter.
The steel elbow usually covers 80% of pipe fittings in the whole system. Different forming technology is used when elbows of different materials or wall thickness are manufactured. The usual seamless elbow forming technology consists of hot pushing, stamping and extrusion. According to different production technologies, our steel elbow can be categorized as weld elbow, stamping elbow, pushed elbow and casting elbow. Welding is the most usual way to connect elbows to pipes but there are other methods such as flange connection, thermal connection, electro fusion joint, thread joint and plug-in connection.
The steel elbow is widely used in process and control systems, chemical, petroleum, fertilizer, fluid power, electronic pumps and paper plants. It is also used to connect hoses to valves, water pressure pumps and deck drains. Some steel pipe elbows made of heavy materials are used in applications suitable for extreme high or low temperature. It can be stored in fumigation-free cases or wooden holders.
Wall Thickness
Taurus Company supplies steel elbow of different schedule numbers. Schedule number is an indicator of wall thickness and we have available sch10, sch20, sch30, std, sch40, sch60, xs, sch80, sch100, sch120, sch140, sch160, xxs, sch5s, sch20s, sch40s and sch80s.
Raw Materials of the Steel Elbows
Materials to produce our steel pipe elbow can be:
Carbon Steel: ASTM/ASME A234 WPB, WPC
Alloy Steel: ASTM/ASME A234 WP 1-WP 12-WP 11-WP 22-WP 5-WP 91-WP 911
Stainless Steel: ASTM/ASME A403 WP 304-304L-304H-304LN-304N
ASTM/ASME A403 WP 316-316L-316H-316LN-316N-316Ti
ASTM/ASME A403 WP 321-321H ASTM/ASME A403 WP 347-347H
Low Temperature Steel: ASTM/ASME A402 WPL 3-WPL 6
High Performance Steel: ASTM/ASME A860 WPHY 42-46-52-60-65-70
Technical Specifications of the Pipe Steel Elbow
Type
Seamless Steel Elbow
Straight Seam Elbow
Butt Weld Elbow
Out Diameter
1/2″ ~ 24″
4″ ~ 24″
12″ ~ 78″
Wall Thickness
3 mm ~ 200 mm
Radius
R=1D ~ 2.0D
Angle
0º to 180º
Standards Available for the Steel Elbow
Our Company provides steel pipe elbow of different standards. Detailed information is listed below.
GB/T12459-2005 GB/T13401-2005 GB/T10752-2005
SH/T3408-1996 SH/T3409-1996
SY/T0518-2002 SY/T0510-1998
DL/T695-1999 GD2000 GD87-1101
HG/T21635-1987 HG/T21631-1990
ASME B16.9-2007 ASME B16.25-2007
MSS SP 75-2008
CSA Z245.11-05-2005
EN10253-1-1999 EN10253-2-2007 EN10253-3-2008 EN10253-4-2008
DIN2605-1-1992 DIN2605-2-1995
BS1640-1-1962 BS1640-2-1962 BS1640-3-1968 BS1640-4-1968 BS1965-1-1963
AFNOR NF A 49-289-1990 AFNOR NF A 49-170-1-1999 AFNOR NF A 49-170-2-2009 AFNOR NF A 49-170-3-2009 AFNOR NF A 49-170-4-2009
ISO3419-1981 ISO5251-1981
JIS B2311-2009 JIS B2312-2009 JIS B2313-2009
Process Flow Diagram – Seamless Steel Elbow Process Flow Diagram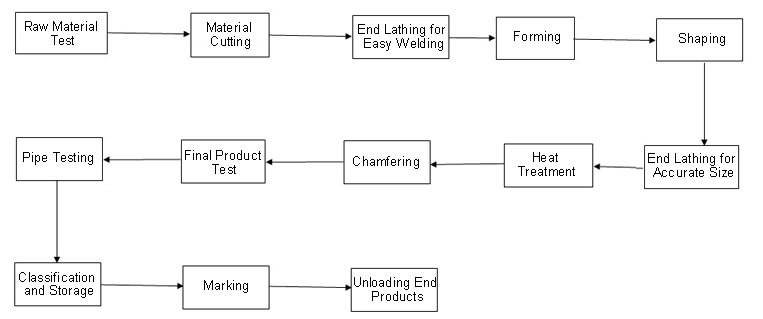 Manufacturing of Butt Welded 

ELBOWS – 

Introduction to Hot Forming
The principal methods of hot working are extrusion, drawing, forging and rolling. Rolling is the most extensive employed forming process, though some limitations may apply to the process. Rolling mainly consists of three major sub-categories: flat rolling, shape rolling (with specifically designed roll grooves) and pipe rolling (including piercing). Forging may be sub-categorized as hamming, pressing, etc.
Forging may be performed under hammers, in mechanical presses and upsetters or by a method known as roll forging. Pressing generally includes the manufacture of forged articles in hydraulic presses. Extrusion usually is performed in hydraulic presses which force the hot steel through a die. Rolling is performed in rolling mills of a variety of types.
The two principal reasons for perform metal forming at elevated temperatures (hot working) are to reduce the forming loads through the reduction of the resistance of the steel to deformation, and to develop preferred metallurgical structures for strength and ductility of the finish products.
The most appropriate manufacturing method of a product will be decided with consideration of its material, sizes, shape, use, standards and other properties.
There are numerous processes for manufacturing butt weld fittings, several examples listed as follows.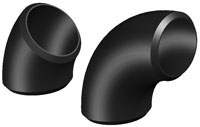 ELBOWS:

 Mandrel method (Hot Forming)
One of the most common manufacturing methods for manufacturing Elbows from pipes. After heating the raw material, it is pushed over a die called "mandrel" which allows the pipe to expand and bend simultaneously. Applicable to a wide size range.
Elbows of steel pipe joints are used in the industrial plants and are mainly manufactured by the hot mandrel bending from raw material of straight steel pipe. Elbows are generally manufactured at elevated temperature by means of pushing, expanding and bending of pipes simultaneously, using the inner tool of mandrel. Characteristics of mandrel bending strongly depend on the integrated shape and dimensions of the mandrel.
Elbows manufactured by using hot mandrel bending have advantages of small thickness deviation and shorter bending radius than those of any other bending method type.